Northern Ireland's geographical structure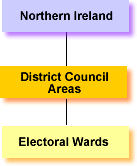 Download this image

Northern Ireland's geographical structure
.gif (187.8 kB)
Northern Ireland is subject to the administration of both the UK Government in Westminster and the Northern Ireland Executive in Belfast.
The UK Government retains responsibility for a number of issues, such as international relations, policing, and justice.
The Northern Ireland Executive however has powers in a number of areas, such as health, education, industry, agriculture, environment, and culture.
Northern Ireland is divided into 11 local government districts (LGD) – formerly district council areas (DCA). Each LGD is subdivided into electoral wards.
Nôl i'r tabl cynnwys
2.

District council areas
At the last reorganisation in April 2015, Northern Ireland's 26 single-tier districts known as 'district council areas' (DCA) were replaced by 11 local government districts (LGD).
The LGDs are unitary administrations responsible for all areas of local government, but their remit is more limited than that of local authority districts (LAD) in the rest of the UK.
The six historic counties (Antrim, Armagh, Down, Fermanagh, Londonderry and Tyrone) are still referred to generally but do not constitute a level of administration.
LGDs are built from electoral wards.
You can download a wide range of maps, including counties and district council areas from the Open Geography portal.
Nôl i'r tabl cynnwys
3.

Electoral wards / Electoral divisions
Introduction
Electoral wards/divisions are the key building blocks of UK administrative geography. They are the spatial units used to elect local government councillors in metropolitan and non-metropolitan districts, unitary authorities and the London boroughs in England; unitary authorities in Wales; council areas in Scotland; and district council areas in Northern Ireland.
Electoral wards are found in Scotland, Wales, Northern Ireland and most of England.
In the Isle of Wight and several of the unitary authorities created as part of the Local Government Reorganisation in 2009, the equivalent areas are legally termed 'electoral divisions', although they are frequently referred to as wards.
Wales changed to using the term 'electoral wards' instead of 'electoral divisions' in August 2013.
The only part of the UK without electoral wards/divisions is the Isles of Scilly, which has its own council but no electoral zoning. For statistical purposes, however, ONS treats the islands' five parishes as electoral wards.
Electoral wards/divisions (and the Scilly parishes) cover the whole of the UK; in addition, all higher administrative units are built up of whole electoral wards/divisions.
They are also used to constitute a range of other geographies such as the Eurostat Nomenclature of Territorial Units for Statistics (NUTS) geographies, health geographies and Westminster parliamentary constituencies.
English local authority districts (LAD) (both metropolitan and non-metropolitan), London boroughs and unitary authorities average around 23 electoral wards/divisions each, Northern Irish district council areas around 22, Scottish council areas around 11 and Welsh unitary authorities about 40.
Population counts can vary substantially, even within a single LAD, but the national average is about 5,500.
More populous electoral wards/divisions tend to occur in large urban areas.
Electoral ward/division boundary changes are usually enacted on the first Thursday in May each year, to coincide with the local government elections.
As of 31 December 2019, the UK has 8,887 electoral wards/divisions.
County Electoral Divisions
Apart from the special cases of the Isles of Scilly and the Greater London Authority (GLA), the English county councils are the only type of LAD in the UK which does not use standard electoral wards/divisions for electing councillors.
Instead they use their own larger units, which are confusingly also termed electoral divisions.
These county electoral divisions must be confined within LAD boundaries, but need not be based on whole electoral wards.
Like electoral wards/divisions, county electoral divisions are defined by the Local Government Boundary Commission for England (LGBCE).
We don't maintain lists of names and codes for county electoral divisions.
Statistical Wards, CAS Wards and ST Wards
Further information on statistical wards, Census Area Statistics (CAS) wards and Standard Table (ST) wards, is available here.
Nôl i'r tabl cynnwys
Efallai y bydd hefyd gennych ddiddordeb yn: